Effective building and management of project teams within the multination and multicultural environment of Alitalia S.P.A.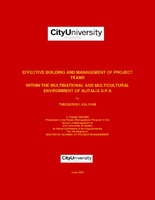 Author
Kalyvas, Theodoros I.
Date
2009-06
Abstract
The modern financial and economic models have forced the organization to use resources around the globe in order to enlarge their margin of profit. This trend however, is a very challenging one as people have to be managed by their leader remotely. This challenge is even bigger when projects have to run under this perspective. The figure of the Project Manager has to be able to form and built a Virtual Project team and has to understand the difficulties of this task. The Project Manager has to possess also special skills for the management of the team that physically, can perform the work packages, thousands kilometer away from the Head Office of the Organization. Today's technology can provide some very useful tools for this kind of management but some interpersonal and personal characteristics for the profile of the Project Manager are essential too.
Number of pages
76 p.
Post-graduate Program
MSc Project Management
Language
English
Collections
The following license files are associated with this item: